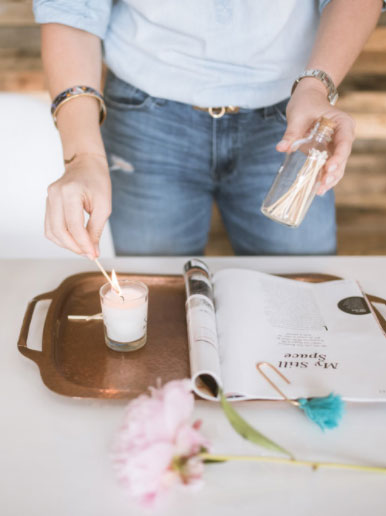 LAETITIA LAURENT
Principal & Lead Designer
Laetitia Laurent's approach to design centers on creating beautifully curated spaces so clients can feel inspired and re-energized. Using European principles of form and proportion as her guide, she helms Laure Nell's creative direction and remains involved throughout the cycle of the project for all important design and budgetary decisions—ensuring all the parts and team members come together to deliver a beautiful and cohesive final product. Often leaning toward a modern aesthetic that invites you to relax and sink in, Laetitia is drawn to clean lines, organic materials, and thoughtful palettes even when they're monochromatic. Picture Coco Chanel removing one accessory before leaving the house, and you have Laetitia's very tailored and deliberate approach. She studied design, art and history in Paris, earned her master's degree in history and international relations from the Sorbonne, speaks fluent French, and travels back often to discover hidden gems and under-the-radar artisans for your home. Most recently, Laetitia was selected as one of 30 top-tier designers to create an inspired vignette in Miami's iconic Moore Building as part of Housing Works' esteemed event Design on a Dime, helping to make a difference through design. She earned the 2019 ASID Award for Best Traditional Kitchen and the 2020 Luxe Interiors + Design RED Award for the Wow-Factor Room category. Portrait by Kris Tamburello
Picture Coco Chanel removing one accessory before leaving the house, and you have Laetitia's very tailored and deliberate approach.
IRINA ISESON
Senior Designer | team leader
Irina Iseson is a Russian-born creative who draws from her experience in design and commercial photography after spending years involved in her family's fashion design house. Irina merged her passion for fashion and photography into her interior design career and now brings her zest for interiors, attention to details and unquenchable thirst for perfection to Laure Nell Interiors, where she oversees the day-to-day aspects of a given project. Inspired by the ocean and other cultures, Irina's designs capture the distinctiveness of a space, marry form with function and always maintain the highest aesthetic qualities. With a strong dedication to and knowledge of the architectural and technical aspects of a design, she continuously surprises clients with the unexpected.
MARISSA NAVARRO
Junior Designer
Marissa Navarro is one of Laure Nell Interiors talented junior designers. Previously, she honed in her skills as a marketing coordinator and design assistant for one of the largest suppliers of architectural and design materials, so she is perfectly poised to help ensure all of the details of your design are executed in a meticulous manner. Marissa acquired her AA from Broward College and then pursued an Interior Design AAS from Palm Beach State College. She relishes in both the concept phase as well as watching the design come to fruition. When she's not working, she's likely at the dog park with her super athletic Huskimo.
SHAYNA IMIAK
MARKETING | DESIGN MANAGER
A true champion of every Laure Nell project, Shayna Imiak splits her time between marketing the firm, developing new ways to build relationships with industry leaders, and assisting our designers in whatever way they need to create your dream home. Armed with a Business Administration degree in Marketing from Touro University and an Interior Design degree from the Art Institute of Fort Lauderdale, Shayna pulls from her previous experience as a residential designer and project manager for a real estate investment group to help all of the elements of your home come together in a beautiful and cohesive way. When she's not immersed in a Laure Nell project, Shayna's taking road trips all across the country with her black lab Charlie.